Starting up your social media can seem a bit daunting at first but don't worry because here at 1WL we've put together our top 5 tips for you to get going and start to grow your online presence.
1. Do it NOW!
The first one is simple, you just need to make a start and get something online. For Facebook & Instagram it's best to aim to post regularly, so aim for once a day or several times a week. This may feel like a lot to start with but eventually it'll come naturally. Rather than overloading on images, choose one that really sums up what you want to say. Free resources like Unsplash are a great way of finding images that might help you make a start.
2. Plan ahead!
The best way to make social media a manageable part of your already busy schedule is to plan. Most platforms allow scheduling and drafts so take advantage of that and plan in advance. This way there shouldn't be days where you are too busy to post or feel like you don't know what to say. Designate a particular person in the office to take charge of the accounts and they can collect images and info from everyone else, or if you are working alone try having a theme for each day so you know what to post, Monday's might be 'work in progress' images while Sunday's might be a more personal 'hobbies' theme.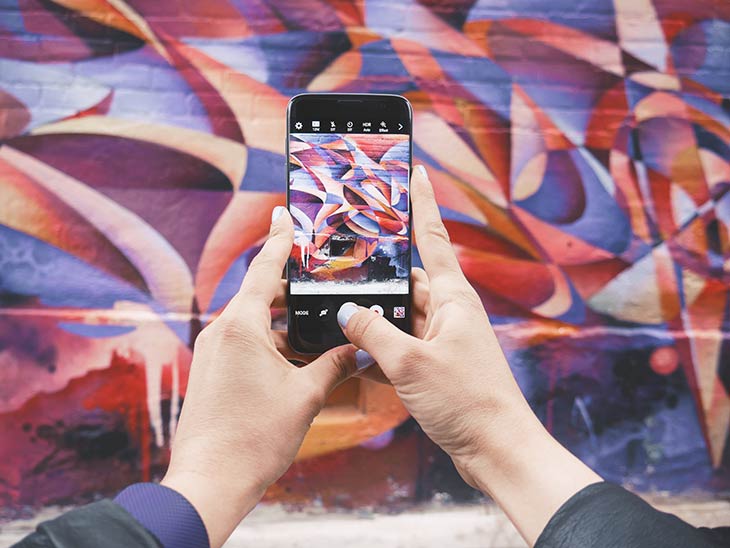 3. Snap Everything
Creating content for your feed can be tricky at first but again with planning it'll became easier and easier. Get inspired and take your own photos. These might be of things you like and that inspire you or things linked to your work. You could talk about some of the things you and your business have to offer or share some interesting news from your industry.
It's best to post images and text that suit each platform. Yes it's more work, but it'll show you know what you are doing. For instance, Instagram is very image based and here hashtags are a big deal, while over on Facebook, posts can be more text based, without hashtags. By posting the right type of content to the right platform, you show you know your stuff and posts become more engaging.
4. Engage with your followers.
Don't just spam or post randomly as that won't help you grow your account. Social media is about connecting and engaging so try to answer questions in a good time frame and authentically. It's a good idea to find other interesting accounts to follow and you can even share another account or image that inspires you. Just be sure to credit the account or the artist when you do.
5. Have fun!
Social media should be enjoyable. Yes it's work, and often hard work, BUT if you want to create truly engaging posts then having fun is a big part of it. You might not have an office dog (we do, he's called Dexter, check him out on our Instagram (insert link) here, but if you can show a little of your personality in what you do it'll help establish your brand.
And finally don't forget to follow us on social media! Links below.
Facebook: https://www.facebook.com/OneWavelength
Instagram: https://instagram.com/1wl.uk
Twitter: https://twitter.com/OneWavelength