Over 450 million websites in the world are built using Wordpress. It is the most popular website creation platform on the planet - renowned for its flexibility and robustness. Wordpress powers websites of all scopes and sizes from simple personal blogs to global super-brand showcases. So what is WordPress exactly?
WordPress is a free, open-source website content management system (CMS); a creation tool that anyone can use to build their website. It is written in the coding language PHP with a MySQL database back-end, and it comprises of a Core System that supports pre-built designs (known as Themes) and pre-built functionality modules (known as Plugins).
There are thousands of themes and plugins available, enabling anyone to create their own, fully customised website.
What is a WordPress website?
Quite simply, a WordPress website is any website that is built using the WordPress CMS as its core system.
Before CMS software like WordPress, websites were created as a collection of individual web pages (coded in HTML/PHP and other coding languages) that a web browser would interpret as text, images, colours and layouts.
Any time a content change was needed, the webpage was downloaded from the webserver, edited by hand, and uploaded back to the webserver. It was time consuming, laborious and required coding skills.
WordPress websites provide an interface that allows anyone to edit a website, as simply as editing a Word document. It takes care of the coding for you!
Nowadays, WordPress can be used for creating all sorts of websites including:
Blogs
Business websites
Portfolio websites
eCommerce web stores
Social Networks
Membership websites
Event websites
e-Learning websites
Forums
Mobile applications
…and even more. Whatever you need, most likely you can build it in WordPress!
What is a WordPress Theme?
A theme for WordPress is a bit like a fully built website design; a bundle of files you can install in WordPress, that gives you a head start in creating a fully functioning website.
There are catalogues of WordPress themes designed by the community, many are completely free to use. Find something that fits your website vision, download, and install it. All the page templates and design assets are there, ready for you to use in your webpages.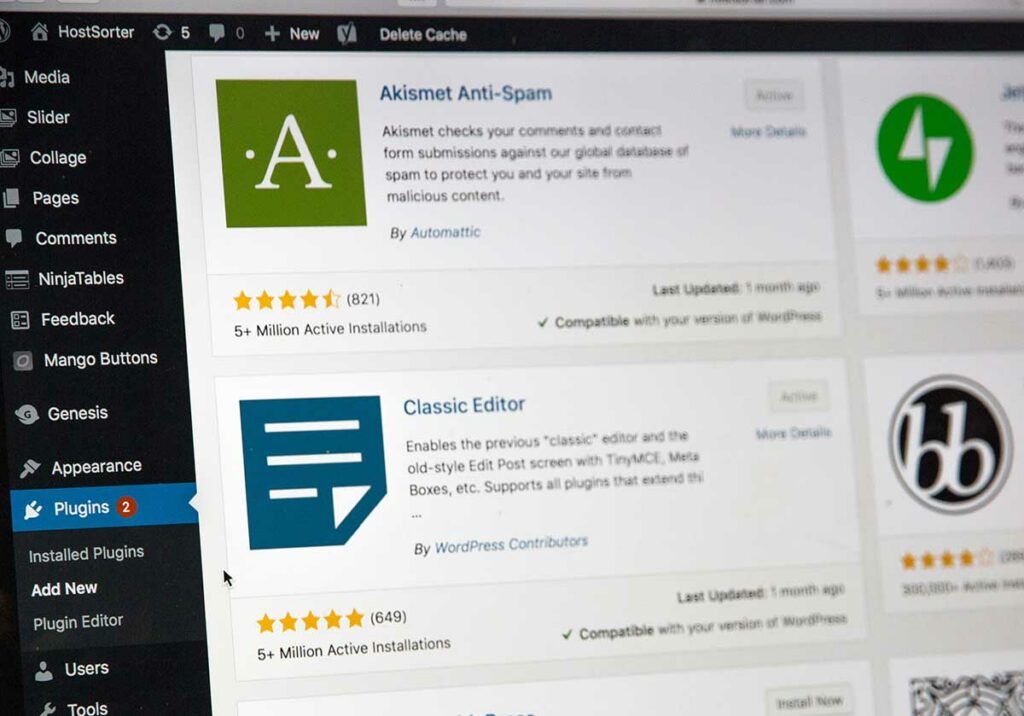 What is a WordPress plugin?
Plugins are software add-ons that give new functionality to the core WordPress system. They come in various shapes and sizes, from small plugins that only perform one or two functions, to much larger plugins that boast a suite of useful tools.
Just about anything you need to do in WordPress can be achieved by adding plugins to a website and they are constantly being evolved, maintained and supported by the community developers that create them.
Pro Tip: Our best advice for a novice WordPress user, is to learn about how websites are structured, and plan your site in as much detail as possible, before you begin building. A sitemap and a content plan will save you time.
Who created WordPress?
The original creators (Mike Little and Matt Mullenweg) set out to create great software that would work with minimal set-up. WordPress originated from a fork of an open-source blogging platform called b2/cafelog.
The first version of WordPress was introduced in May 2003 and development has continued to this day, starting with plugin architecture that came in 2004 that enable anyone to write their own functionality for the system.
Debuting as a blogging platform, WordPress evolved into the CMS platform we know today from 2010 onwards, when version 3.0 was released with several new features including custom post types, taxonomies, backgrounds, headers, menus and even the ability to create multi-site networks.
Today it's stronger and larger than ever. The whole system is continuously being improved and developed and that continues to increase. What started as a simple blog now extends to boasting a full online shopping (e-commerce) platform, and running in hundreds of languages worldwide.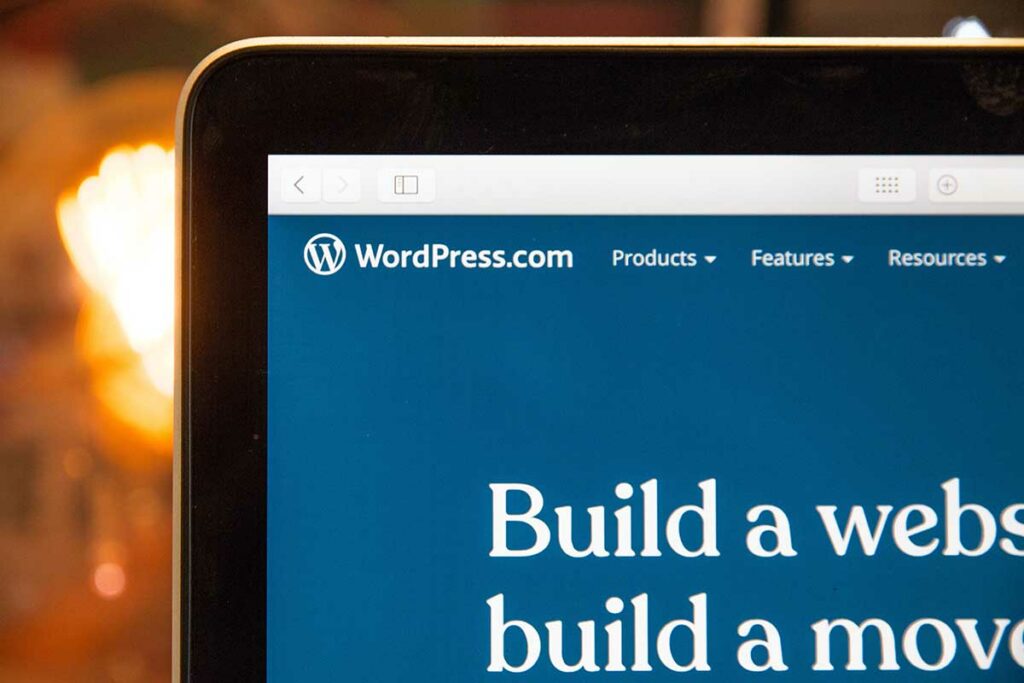 WordPress.com or WordPress.org
What is Wordpress.com?
WordPress.com is a packaged version of WordPress that combines the CMS, domain name and web hosting as a bundled website creator with a single point of access.
What is Wordpress.org?
WordPress.org is the open-source software that most people recognise as WordPress. This is the freely downloadable system you can install on your chosen hosting platform and link up your own domain.
Which one is best?
That depends on who you are and what experience you have.
For most, WordPress.org is likely to be more suitable because it's open-source licencing allows skilled web developers to create anything. Once downloaded and installed, you are free to configure it in any way you want. It's a fully configurable Content Management System where the possibilities are literally endless.
WordPress.com makes it easier to get things up and running, but it's much more limiting in terms of available functionality. It is similar to offerings from Wix and Squarespace, where the aim is to appeal to those with little to no technical expertise.
Who owns WordPress?
The WordPress Foundation runs WordPress.org. It's a non-profit organization with a mission to democratise publishing through its open-source, General Public License (GPL) software.
Founded by Matt Mullenweg in 2010 - the foundation took over ownership of the WordPress trademark & logo from his company, Automattic, to ensure the continuation of development and accessibility to developers.
WordPress.com is owned and run by Mullenweg's company, Automattic, which offers the bundled website packages just mentioned.
Why Use WordPress?
Wondering what CMS you should choose for your new website, or more specifically asked yourself, should I use WordPress? Seriously, forget the rest. Here are 11 reasons why you should use WordPress.
It's Free To Use
Anyone can download, install, set up a domain name and web hosting, to have your very own website.
It's Simple To Use
Even as a complete beginner, you still have the ability to get creative with WordPress. Pick a theme and plugins to give you the functionality you need, and the sky is the limit! From a simple one page site to complex site structures, WordPress can simply do it all.
Highly Flexible & Customisable
From Pet Services to Aerospace & Defence - Portfolios to E-commerce stores... WordPress powers all sorts of websites across all industry sectors. One of our favourite ways to use WordPress is using a Template Builder like Divi (by Eleganct Themes). It's one of the world's most popular template creators, with thousands of free and paid themes and templates to select from, and the ability for experienced web professionals to build creative masterpieces.
It's Open Source
This means it's free to use by anyone under the GNU General Public Licence. A global community of developers contribute to its continual development and improvement. Everything about it is fully transparent and accountable.
Maximum Security is at its Core
WordPress is probably the most secure website CMS platform available. It's the biggest CMS which also means, it's the most targeted CMS for exploits and hackers, but that's never been an issue. Security updates are released regularly for the core system, plugins and themes, to ensure websites are always tightly secured and your data is safe.
It's Trusted Globally
Over 43% of the world's websites are built using WordPress which is a testament to its functionality and diversity. Thousands of people are invested into the development of WordPress and its themes & plugins and that is set to continue.
It has a Network of Developers that operate Globally
Due to its size and global reach, there are more developers for WordPress than for any other CMS, making it straightforward to find a skilled developer whenever or wherever you need one. There are also numerous community events held around the world for WordPress developers, fans and followers alike, including those arranged by Meetup, WordCamp and WPCampus.
SEO Built-In
WordPress automatically creates Title Tags for your pages and posts. This will help your site get indexed and move up the SERP (search engine results page) on search engines like Google. There are various plugins available to enhance your SEO efforts but Yoast is by far the most popular, biggest and longest established. It allows you to define a keyword and measures the keyword density and word-count and makes recommendations on how to improve your targeting of that keyword.
That said, there is now a truly viable challenger to Yoast in the form of RankMath. We have switched over to exclusively using RankMath because of its much nicer interface and integration into WordPress, and a more extensive range of features that enable it to do the job of several plugins.
Mobile Optimisation
Most WP themes are already optimised for mobile and there are a variety of tools to help with mobile optimisation built into WordPress itself.
Integration and Automation
One of the more remarkable things about WordPress is its ease of integration. The plugin library supports a huge selection of connecting apps such as Zapier, Microsoft Dynamics, ZoHo, MailChimp and more.
Integrations are key to creating efficiencies in organisations, and they're particularly useful for sales & marketing purposes. They ensure that key information is correctly captured and processed into a CRM and/or marketing channels such mailers.
Integration and automation can also improve user experience by delivering information to site visitors in more innovative ways.
eCommerce Ready
WooCommerce is a group of WordPress plugins that turn your website into a fully featured online shop. Its capabilities are extensive and it's fully customisable, with integrated marketing, payment and fulfillment functionality ready to go.
It is the biggest e-commerce platform with 40.9% market share (that's 15% higher than its next closest competitor, Shopify). WooCommerce is considered part of the broader WordPress offering and it is exclusive to WordPress.
Security Tip: Newcomers should stick to using the most commonly used plugins as they are regularly updated. Compare the number of users/downloads and when a plugin was last updated, before selecting which one to install.
Who Uses WordPress?
The biggest brand names in society use WordPress to run their websites, and they're not just blogs and news sites. If you asked each of them the question, 'What is WordPress?' each will have their own unique take on what it is to them. Here are 10 examples of the variety of sites that can be built:
TechCrunch:
One of the largest technology news and review websites in the world chose WordPress because it gave them the platform to build a, "slicker, faster frontend that is better suited to our unique needs".
Sony Music:
Sony use WordPress because relying on a core system that is constantly being maintained by a global community, saves them considerable amounts of money over choosing an alternative CMS.
Microsoft Studios:
One of the largest gaming publishers in the world, they develop and release some of the hottest gaming titles on Xbox, PC and mobile devices.
The White House:
If the US government are using it, website security is not an issue!
Finland:
Even countries are using it for their official tourism websites, the thisisFINLAND website being just one example.
BBC America:
Cable TV network owned by AMC Networks and BBC Worldwide.
The Walt Disney Company:
The corporate information website for Walt Disney Company contains news and information on investor relations, careers and social responsibility.
Playstation Blog:
Information on everything that goes on in the Playstation ecosystem, including game releases, news and tips and offers.
University of Washington:
Research and educational institution, the University of Washington, is based in Seattle, Washington, USA. A very large informational website with thoughtful navigation that separates content by visitor type (student, parent, faculty/staff, alumni).
Bata:
Fashion brand Bata established in 1894 and are best known for making quality footwear and bags for men, women and children.
WordPress Help and Assistance
If the questions, 'What is WordPress?' and 'Is WordPress right for me?', have been on your mind, we hope this article has been of help.
With over 20 years experience in website creation and over 10 years of WordPress expertise, we're well placed to offer help and assistance, whatever that may be, to anyone wanting to know more about WordPress.
Whether you are a startup company, a personal blogger, an existing WordPress user looking to improve, or you just want to know more before deciding your next move, we offer an experienced hand to help you make the right choice.
We provide elite WordPress Strategy, WordPress Website Design & Development, WordPress SEO and WordPress Support services to businesses of all sizes, to ensure your investment is carefully managed, so if you need some help or want something creative, get in touch today.